Content marketing through blog posts can increase your ROI with the proper strategy in place. According to Hubspot, marketers who prioritize blogging are 13x more likely to see a positive ROI on their efforts.
A successful B2B blogging strategy provides value to your target audience, builds trust, and ultimately gets people to take action. The action you should persuade your readers to take depends on where they are in the customer journey, what their pain points are, and how your business can resolve those pain points.
Therefore, if you want to craft high-quality content, you need to create customer personas that detail the way your target audience's businesses work, what their individual responsibilities are, and how your company can support them in achieving their personal and professional objectives. This insight will guide your content marketing strategy and enable you to write content that truly resonates with your target audience.
You can then break up your content marketing action plan into three types of blog posts that will guide your prospects down your funnel and maximize the ROI of your content: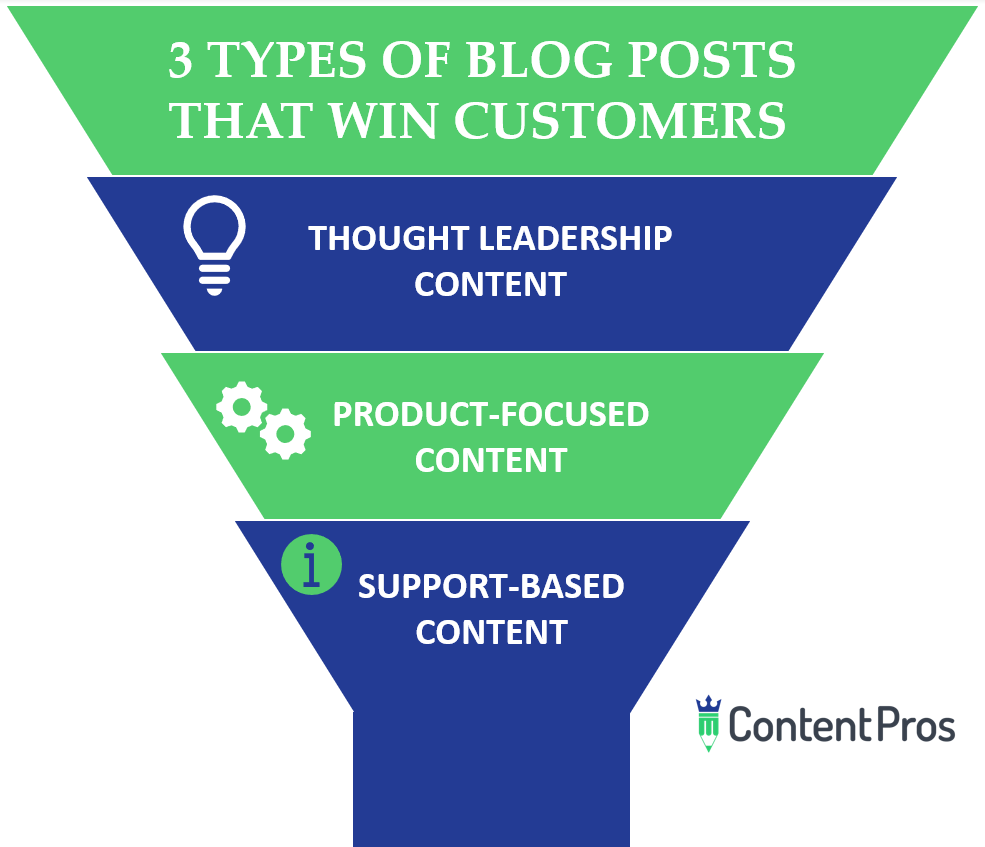 1. Thought Leadership Content — Demonstrate Your Expertise
Everyone wants their business to become a trusted resource so that their readers think of them in times of need, return to their site, and refer them to their colleagues. You can do just that through thought leadership content, such as in-depth blog posts, webinars, ebooks, guides, and white papers. According to a DemandGen report, "Around 79% of B2B buyers share white papers with colleagues." Give your readers the opportunity to share your insights and resources with their network.
Thought leadership content also has a powerful impact on B2B conversions. According to LinkedIn and Edelman research, "Almost 60% of business decision-makers said that thought leadership directly led to their awarding of business to an organization." To put this into perspective, Primalogik's Marketing and Communications Manager explains, "People want to feel that you understand their needs, the market." She also adds, "I don't want to just write about what our software does; I want to offer them valuable insights on everything HR related." 
If you're still building your toolbox of valuable experiences and insights in your field, leverage your network to create thought leadership content. Reach out to influencers and experts in your niche to learn from them and collaborate on guest posts for more in-depth and technical topics as you work your way towards expert status.
2. Product-Focused Content — Show Your Solution in Action
Alongside thought leadership content, make sure you create content focused on the value your business provides to your customers. There is a right way and a wrong way to do this. The wrong way involves writing a blog post that focuses solely on how awesome your software or product is. Your readers will immediately recognize the sales pitch, leaving your website and their trust behind.
The right way is all about real-world stories and showcasing how your product or service helped out an existing customer. For example, you can record an interview with a client and write a case study detailing how they increased organic traffic by 300% by using your services. Sharing measurable results, decision points, lessons learned, and quotes from the client will have a powerful influence on your readers. If you want to maximize the value you deliver to your readers, include related insights and tactics that the client used in addition to your own services. These valuable details will prevent your case study from being nothing more than a testimonial.
Another product-focused blog technique that works exceptionally well in the service industry is the "reveal it all" approach. Write a blog post about a common pain point your customers have. Lay out the solution to the problem and show your readers how they can solve it on their own, without buying your service or product. Then, in the last quarter of the blog post, talk about how your business can solve that problem much more easily, faster, or at a higher quality than they could on their own.
You'll often see this technique used in sales tactics related to developing and implementing a marketing strategy. For example, a blog can walk you through the steps of auditing your website and how to implement SEO best practices to improve the site's performance—but the process looks time-consuming and intimidating. Then, the company shows you how one of its clients used its services to complete the entire process in just one month and that their website traffic has already doubled. This is the idea behind product-focused content—helping your readers solve a problem, and then showing them how your business can solve it more efficiently.
3. Support-Based Content — Help Customers Use Your Solution
Many companies drop the ball after winning a new client. They fail to ensure their clients are maximizing the value of their services by integrating them into their businesses and using all of the available features. This is where support-based content comes in: it's content that helps users effectively use your product or service. 
By offering your clients on-demand support through webinars, videos, and helpful blog posts, you will turn them into adept users of your product or service. While updating your content calendar for the coming months, connect with your sales and support teams to request a list of questions or pain points they frequently hear. Then, create helpful blog posts or videos for your teams to share the next time those questions arise. In return, you'll see a boost in your conversions and customer reviews.
Building up a set of resources designed to help your clients use your solution more easily is an investment in your long-term client retention. Stellar customer service and an excellent user experience lead to higher retention rates, upsells, and referrals. Also, if you have an extensive resource base, your clients will start to refer to those resources before contacting your support team. This is a win-win: better service with less time spent by your customer service team.
In addition to supporting your customer service team, support-based blog content also benefits your sales team. Let's say you're rolling out a new feature for your users. You tell everyone about the additional value you can provide via a webinar and blog post in your next newsletter. Your sales team now has additional resources to share to gain trust during the discovery phase, as well as another reason to reach out to colder prospects. 
This approach of incorporating valuable content into the sales process is proven to work well for businesses. According to NuSvara, "It's a way of providing value for a potential customer without expecting anything in return. Customers don't feel like they're being reeled in by a crafty salesperson; rather, the company is simply proving its expertise to them."
Constantly improving and creating support-based content boosts customer satisfaction and builds trust with your potential customers. Plus, your customer service and sales teams will thank you for it.
Bonus: Increase Your B2B Blog Traffic Starting Today
Now that you have the right type of blog content to guide your audience down your sales funnel, you should focus on sharing that content with your community and engaging with your audience. Follow this guide to promoting your B2B blog the smart way to increase your website traffic and convert prospects.