It can be daunting for a small marketing team to consistently write SEO content for your blog. The battle for the eyes of your prospects is fierce, but you don't need an army of marketing personnel to get your content noticed. With a bit of know-how and preparation, you and your team can learn how to write blog posts faster while ranking high among search engines.
5 Hacks for Writing Blog Posts Faster (and Better)
1. Develop an on-page SEO checklist
Whether you are a finance writer covering M&A transactions or an expert blockchain content writer, you need to understand on-page SEO to gain search engine visibility and boost SEO effectiveness.
On-page SEO involves the optimization of web pages in order to rank higher in searches and drive traffic. On-page SEO includes readability, keyword focus, optimizing images, crawlability, and mobile-friendliness.
To optimize the effectiveness of your content, develop an on-page SEO checklist to adhere to. Here are key on-page SEO best practices to deploy while writing a blog:
Craft engaging titles that will capture your target audience across each of your distribution channels.

Write a meta description that details the key takeaway for your reader.

Write alt text describing each image in the blog post.

Naturally incorporate your keywords into the titles, headlines, meta description, opening paragraphs, and alt text.

Use headers, bullets, images, and formatting to break up the content for the reader.

Hyperlink to at least two other relevant blogs, pages, and resources from your website.
When you consistently optimize your web pages, your superior content will shine through.
2. Research your keywords in bulk
Now that you understand how to optimize your web page, you need to turn your attention to conducting keyword research related to your business. 
Researching keywords in bulk provides insights into the less competitive keywords that a prospect might use to search for your products or services. This work has the added benefit of enlightening your list of writing topics.
Step 1:

Brainstorm a list of at least 30 search terms using tools like Google, Answer the Public, Quora, and Reddit.

Step 2:

Organize your terms into foundational vs. long-tail buckets. Due to the stiff competition that dominates popular searches, focusing on long-tail keywords will maximize your efforts. Long-tail keywords allow you to compete in content instead of domain strength.

Step 3:

Conduct competitive research using at least two keyword research tools.

Google Trends

(free) and

Ahrefs

($7 trial) are two user-friendly, robust options. While evaluating your existing list of terms, keep an eye out for alternative keywords that offer higher volume, lower competition, or both.
As a final step, organize your list of search terms that have the magic combination of high search volume and low competitiveness into buckets of related topics. Now, you're ready to start writing content that incorporates those terms!
3. Develop a content calendar
A key to a successful SEO strategy is having regular and consistent updates. Fresh content attracts more readers and improves search result placement. However, this requires organization and planning. The most successful content marketers depend on content calendars to manage assets—and you should, too.
A content calendar helps you organize your content and distribution. It allows you to plan content delivery around key business events when it will be the most effective.
Plus, it enables you to determine whether you have an appropriate variety of topics and content styles to keep your audience engaged.
Download our free content calendar template to get started.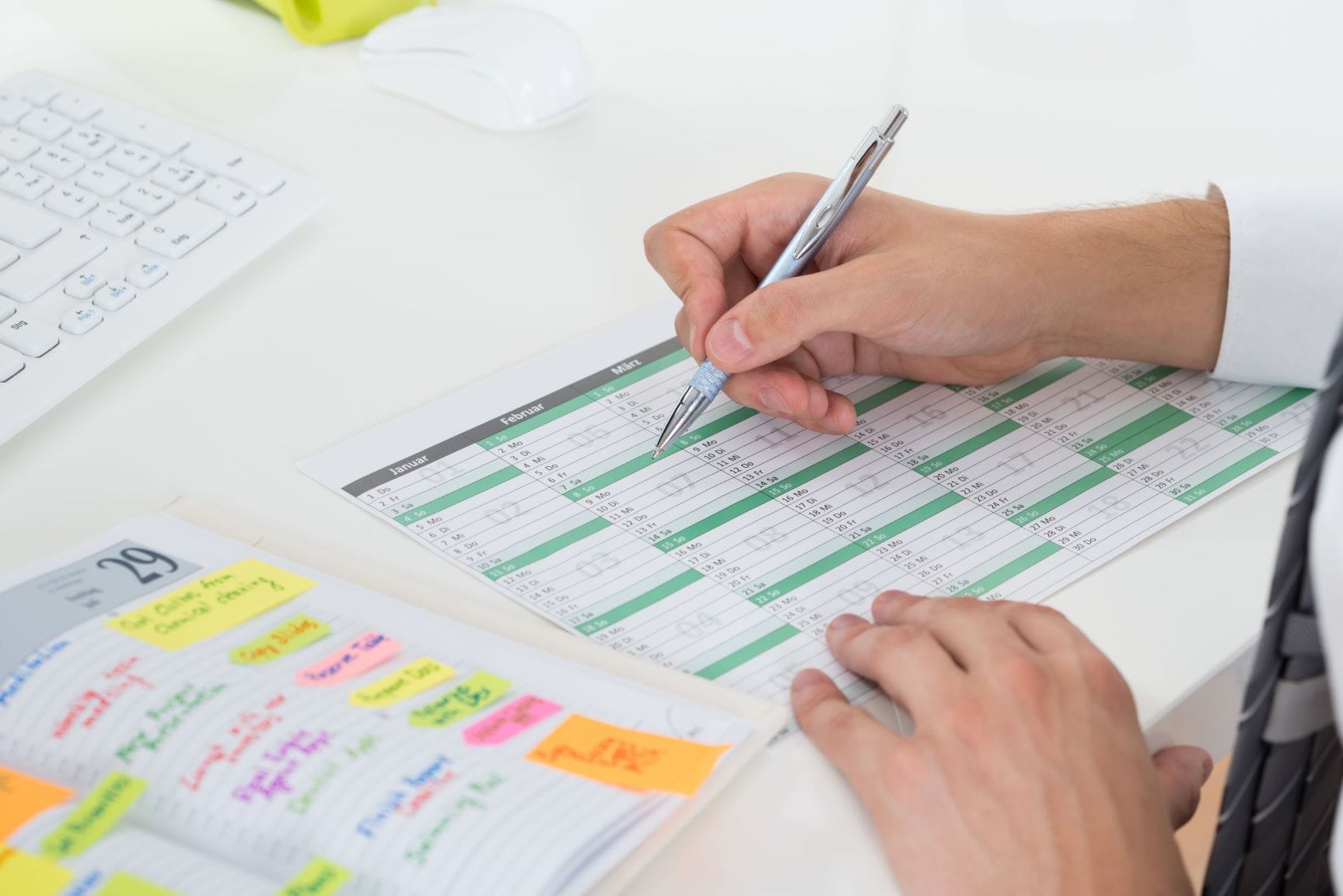 4. Organize content through outlining
SEO content has specific goals to achieve and requires organization. But fear not. Outlining your ideas allows you to organize your thoughts and saves you time in the long run, especially if you're working with a team.
Kick off your outline by brainstorming the H2 headers and key takeaways for each section. Then, conduct your research to find any stats, quotes, or external data needed to support those takeaways. Some professional writers also choose to include transitions and anecdotes in their outlines, which helps prevent writer's block later.
Breaking up your blog with an outline allows you to work on each part independently. In addition, you can include information on how to organize your content so it's more readable and engaging.
5. Write a proper first draft
You did your planning and research, and now, you need to write the article. But where to start?
The key is to just start writing by fleshing out your outline. Get stuff down on paper and out of your head. If you get stuck, work on a different section. It's essential to push ahead. Moving forward will often give you fresh insight into other sections.
Don't correct your writing or proofread at this stage. If you're continuously rewriting, you will waste time and never finish. You will have plenty of time to fix typos and improve your word choices later.
How long does it take to write a blog post?
Professional content writing services can research, write, and edit a blog post in a matter of hours because they have an entire team of experts. Of course, this can depend on the complexity of the material, but following the simple guidelines above can speed up your content writing process, improve search engine rankings, and drive traffic to your blog.