With great challenge comes even greater ingenuity.
Image source
As the COVID-19 storm rages on, brands across industries are being forced to change the way they think at their core.
The sheer spread of the virus has caused mass disruption across the world, thrusting droves of people into a state of isolation and leaving business owners with no other option than to close shop—at least in the traditional sense.
Such an epic challenge requires an innovative response—a level of commercial metamorphosis like we've never seen before.
In a recent article, marketing expert Harry Lang said:
"As in any time of crisis, those businesses that bury their heads are likely to come unstuck, while those that roll with the punches, innovate, and make the best of a bad situation will come out on top."
Industry, niche, and sector aside, if you're thinking about upping your efforts in response to COVID-19, the following four brand pivot stories will inspire you.
Let's get started.
Martz Technologies: uphold values, create opportunity 

Image source
In response to COVID-19, Martz Technologies branched out from its automated systems engineering services, redeploying its resources to develop durable antimicrobial face masks for the community.
The face masks, made with the brand's antimicrobial X-STATIC® technology, are lightweight, affordable, and vary in size. As such, they became an instant hit.
Martz Technologies is donating 20% of its profits back to its local community to help those in need. To reach its lofty one million face mask-making target, the brand enlisted the help of people with sewing skills—which, in turn, created a wealth of jobs in the area.
To date, at least 10,000 individuals have bought Martz Technology face masks, and as local employers and healthcare providers continue to order in bulk, this number is expected to grow exponentially.
Takeaway: By staying true to your core brand values and deploying your existing skills, technology, or resources, you just might find a direct solution to a widespread problem and boost brand loyalty even in the most challenging of circumstances.
MEAH Health Navigation: take a leap in digital transformation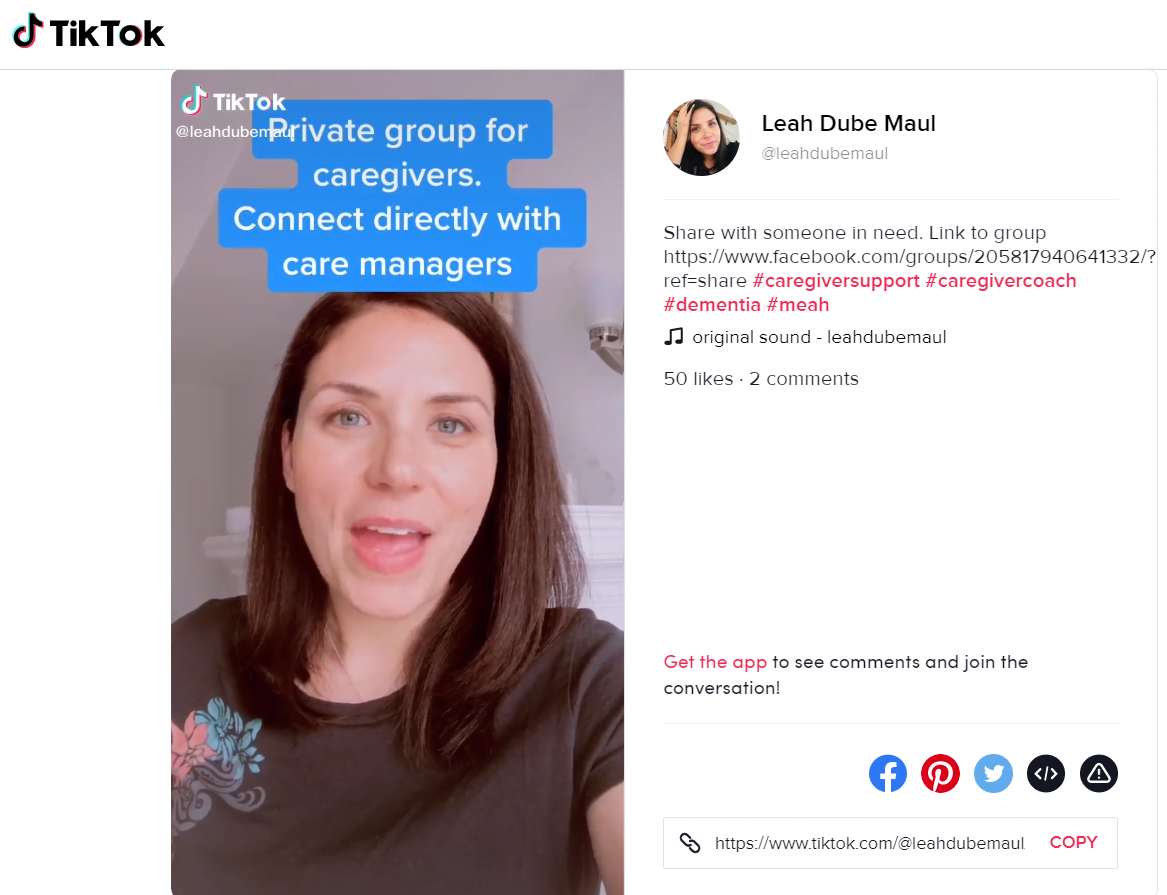 Image source
In-home senior care management and advocacy are vital services that patients and their families rely on 24/7. However, COVID-19 has placed a number of roadblocks in the way of this crucial sector.
After celebrating its first birthday, MEAH Health Navigation was faced with a colossal challenge. Because the company offers face-to-face care and support to aging patients, the early lockdown of senior communities stopped MEAH's business in its tracks.
But, with an inspiring pivot, MEAH Health is beginning to thrive again.
Without physical access to its patients, MEAH Health decided to invest in a new digital strategy that focused on the caregiver in addition to the patient.
Leah and Melissa, the company's co-founders, are currently filming a 12-week care education course and have developed educational memberships to empower people to care for their loved ones in crisis.
To promote its efforts, MEAH Health adopted a proactive approach to social media. Its "Coaching Through Covid" Facebook group already has hundreds of members, largely due to its TikTok video promotions. By taking to the relatively new platform, the business expanded its reach through an unexpected audience: grandchildren.
This two-fold pivot is already a great success, and it's likely to secure a prosperous future for the forward-thinking brand.
Takeaway: By looking at how you can offer practical value in your existing situation and embracing new digital tools to help you achieve your goals, you can reinvent your business for success in a time of great change and social isolation.
Bold Music: virtual lessons, virtual connections
Your Song – BOLD Music Instructor Virtual Collaboration from George Ramsay on Vimeo.
With the mission of creating and supporting a community of professional musicians through consistent, high-quality teaching gigs, Bold Music is a much-loved outlet for local creatives.
Its student- and teacher-driven approach to one-on-one in-home tutoring has been wildly successful in the Charlotte and Raleigh areas since the business started its journey. Of course, the rise of COVID-19 threw Bold Music a giant organizational curveball almost overnight.
Without the ability to teach students in person, Bold Music's team of instructors faced the prospect of their lessons being frozen. Fortunately, on the lead-up to the outbreak, Bold Music co-founder George Ramsay and his team developed an online teaching portal to virtually connect tutors and their students.
The company's intuitive branded portal and Zoom-based video tutoring technology are keeping the music going in the COVID-19 age, maintaining the brand's commercial momentum while giving masses of people access to a vital creative outlet during this time of isolation.
Takeaway: In the digital age, we are all connected. If you can offer your services and maintain contact with your audience virtually, you will discover invaluable new ways of forging connections while diversifying your business model and expanding your reach.
REACT Innovations: reimagine the model, become a part of the solution

Image source
This business's cutting-edge physical therapy technology is industry-leading. Before the COVID-19 outbreak, REACT Innovations was growing at an incredible rate, with relationships with the NHL, NFL, and a wealth of top-flight medical institutions. As the pandemic put a hold on sports and shifted the spotlight to healthcare providers, REACT's progress and revenue went dark.
In response to the challenge, REACT Innovations adopted a forward-thinking strategy to secure its future while helping COVID-19 patients recover.
Based on clinical studies, the business discovered that its muscle stimulation technology could also be applied to respiratory and pulmonary issues, enhancing patient recovery both during and after the pandemic.
REACT is donating ten systems to medical institutions fighting the virus. It's also looking to leverage existing relationships with key industry spokespeople who can share the value of its cutting-edge technology. This move is a game-changer that could enhance the lives of countless people across the nation and possibly beyond.
Takeaway: When you're thrown an unexpected curveball, and your business model is disrupted, you can continue moving forward by looking for opportunities to redeploy your products or services. Consider how you can reimagine your products, services, or model to become a part of the solution (much like REACT), and your new commercial direction could take you to amazing places.
Honorable Mentions
The brands above are leading the way in the most challenging of times, but there are countless businesses out there navigating choppy waters while doing great things for their customers, employees, and communities.
Let's highlight a small handful of those with honorable mentions:
"Kindness is the best form of humanity." –
Doris Lee
All of these diverse inspirational businesses are a testament to the power of innovation and determination during a crisis. If you're a business owner planning your next move, take heed of these astounding achievements and stay true to your values, and you will come out on top.
Do you have any COVID-19 pivot success stories of your own? Please share them by leaving a comment. Let's get the conversation started and continue to support each other!