Our foolproof guide will help you find a writer that's the perfect fit for your team!
We found ourselves lost… in a sea of applications.
How in the *bleep* are we supposed to find the perfect team of writers for our needs? We felt defeated, but we kept on swimming forward, through the painstakingly slow process of trial and error.
Then, one day, after hiring writers from various industries for 5+ years, we realized that we had made it to paradise – we had finally put together an epic team of writers!
As of writing this article, we've hired over 100 quality writers who cover a wide range of topics including digital marketing, big data analytics, IT/ software engineering, human resources, and MUCH more.
If you're reading this article, you're probably feeling some of the same things that we felt – Hiring an entire team of epic writers is not an easy task. How are you supposed to detect the quality of each writer? We've all heard of websites like Upwork and Fiverr that offer a large pool of talent with various writing backgrounds, but how many of these writers can actually deliver the quality of content you're looking to achieve?
Well, luckily you've made it to the right place. We want to share what we've learned so that you'll have success making it through the in-depth process of hiring writers.
You'll love this blog post if you're looking to:
Find out the secrets for creating the highest quality team of content writers ever

Discover the best places to search for your perfect match

Attract top writing talent with exclusive tips and tricks

Finesse your ability to spot high-quality writers
We are going to dive into the following eight steps:
Main Goal:

What is the main goal I wish to achieve by hiring writers?

Research:

Where is the best place for me to look for freelance writers?

Post:

How can I write an enticing job post?

Application:

What questions do I ask the writers to find out if they're perfect?

Filter:

How do I filter through my results to find the best writers?

Sample:

What can I do to ensure a writer is the perfect fit?

Hire:

How should I officially hire writers?

Onboard: How do I clarify on-boarding details with writers?
1.) Main Goal
What
is the main goal I wish to achieve by hiring writers?
The critical first step to building an epic team is to understand what you're looking to achieve by hiring writers. For example, some companies need writers for the creation of marketing content, slogans, special reports, and other projects. As a blogging service, our main goal is to hire high-quality writers from a wide range of industries so that we can offer each customer the right writer their needs.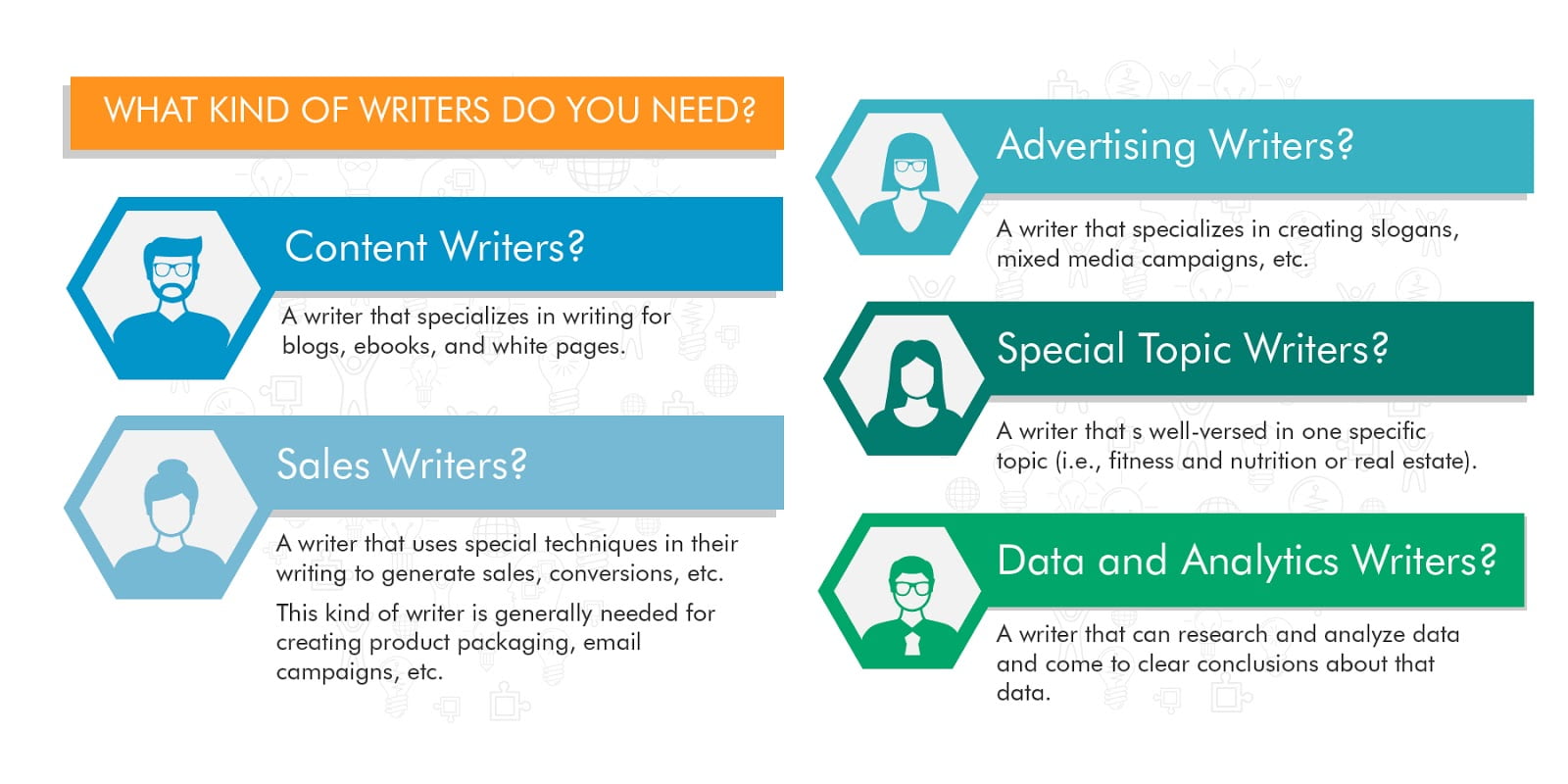 2.) Research
Where is the best place for me to look for freelance writers?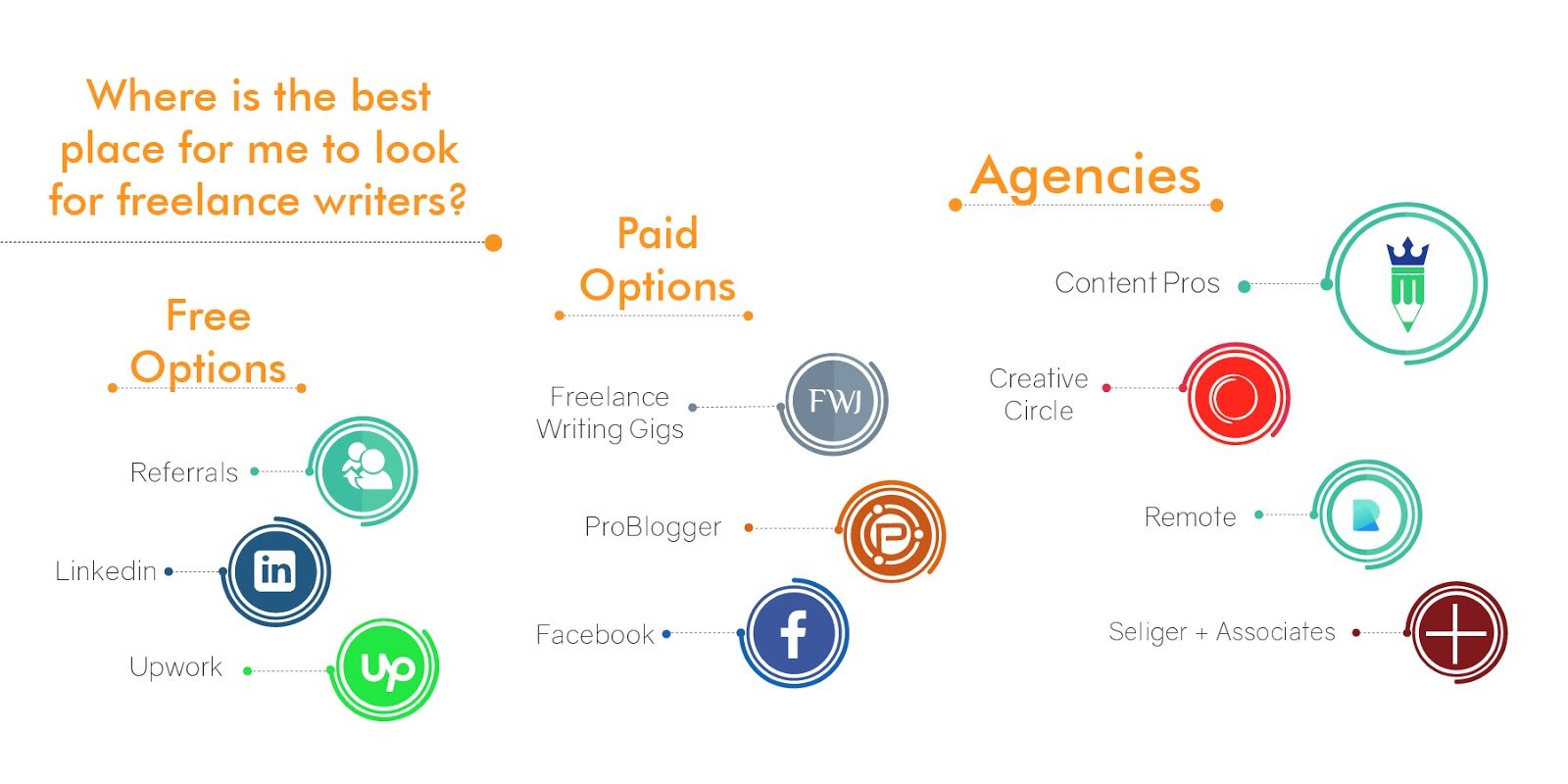 Alright, now it's time to head to the content writer store and pick out a content writer! Just kidding if only it were that easy! However, there is still some shopping around to be done. According to a study conducted by Upwork, by 2027 the majority of people (about 86 million) in America will freelance. There are thousands of avenues with thousands of writers for you to choose from. However, the same isn't true for finding a large number of high-quality freelance writers. You have to know where to look in order to find a writer that will help you achieve your goals. The issue is that there are SO many options to choose from that a lot of trial and error is required before finding an avenue that can deliver the best writers. We've taken out some of the grunt work for you. Here is a list of free and paid options that we know are useful for finding high-quality freelance writers.
Free Options:
Referrals:

Check out local networkings events that can link you up with some high-quality writers. Also, don't be afraid to reach out within your personal network. Who better to ask than people within your network who have already worked with writers?

LinkedIn Profiles:

Search for

LinkedIn

profiles that match your needs. Create an email campaign that will push your subscribers to your job ad.

Pro Tip: LinkedIn offers a service called ProFinder that helps businesses find the top local freelancers. However, you can only receive five proposals from candidates for free. Click here for a step-by-step guide to recruiting on LinkedIn using free methods.
Upwork: Upwork is one of the more well-known avenues for finding freelance writers. You can find a writer with the exact skills and experience you're seeking.
Paid Options
:
Freelance Writing Gigs:

Using Freelance Writing Gigs, we have been able to recruit a much larger group of professional writers than on any other platform. Plus, we don't have to worry about being banished like we did with Upwork. A 30-day job listing on this website costs $30.

ProBlogger:

If you want to cast a wide net, you can also post your ad on ProBlogger. A 30-day job listing on this website costs $50.

Facebook:

Create a video or campaign about your stellar writing opportunities and pay for advertising on Facebook to push writers towards your application.
Pro Tip: Post twice a month to receive a higher volume of high-quality applications from professional writers. You can also pay to boost your post on websites like Upwork and Freelance Writing Gigs to bump up your post's visibility.
Agencies:
Agencies are a viable option if you have a larger budget and can't find the time to go through this process.
Pro Tip:

Read agency reviews to give you insight on the experiences other people have had working with the agency. Furthermore, some agencies skip out on paying the writers a fair price. Reviews will confirm that writers are being paid their fair share.
3.) Post
How do I write an enticing job post?
It's (almost) time to go live! But first, we need to create content for the ad. The idea here is to make your job offer sound as enticing as possible. If you want to attract top talent, you have to write an ad that speaks to professionals. Furthermore, you want the language that you use to match your company's tone. For example, we like to use language that says Hey, we're relaxed but reliable. Here is a template that we use to find our writers. You can tweak the description to match your needs:
---
To: The freelancer writer slaving away on job applications trying to land one-off jobs that never come back to you after you've completed the work. To the freelance writer who specializes in [NICHE INDUSTRY NAME] and wants to share their expertise and maybe learn a thing or two along the way…Yes, I am talking to you.
I am talking to the writer:
With a great attitude,

Who enjoys the work that they do,

But also knows that they deserve to get paid just a little bit more on a consistent basis.
I am talking to the writer who:
Knows their worth

Is a team player

And is looking to be part of a team that pays consistently, month over month, for the work that they do.
If you dig this, keep on reading because it might just be the best damn job opportunity you've ever seen. Hi. My name is [NAME] of a company called [Name of Company]. And right now, I am looking for awesome people to add to my writing team. I am particularly interested in working with people who vibe with the culture that I've created and can create blog posts at a high level. The best part? We have plenty of work to go around! So as long as you're motivated and qualified, we will likely need your creativity! But first, let's talk details¦
General Details:
Pro Tips:
Always mention that you are looking writers that can deliver high-quality content.

What kind of writers are you looking for? (I.e., writers that specialize in e-commerce, finance, sales, etc.)

What's the length of your contract? (I.e., 90-days, 1-year?)

What are some of the duties your writer has to handle? (I.e., will your writers need to come up with the ideas for your blog posts? Or do you have the ideas already laid out? Will your writers have to include images throughout the blog posts? Will your writers have to cite high authority sites and influencers?)

Other general details that you think are relevant to include.
Compensation and Deliverables:
Pro Tips:
Include what you're willing to pay writers. Mention if this price is negotiable or not.

How many blog posts per month do you expect your writers to deliver?

& How many words per blog post?

Exactly how much time do you writers have to complete their assignments?
Traits and Attitudes:
Pro Tip: Include details about the kinds of traits and attitudes you expect from your writers. This is an important section to include because you want writers to fit into the flow of your company culture. For example, we require the following from our writers:
Ability to Accept Constructive Criticism:

You must respond well to criticism and feedback on your work. Sometimes, the customer or our internal editing team is going to tear your blog post wide open. You need to be able to look at that objectively and handle it like a professional.

Ability to Hyper-Communicate:

Our team and our customers expect responses from writers as soon as possible. This does not always mean that you need to jump on things right away. We have revision timelines and things in place that provide you with a reasonable amount of time to get things done. That being said, we need to hear from you, and we encourage hyper-communication.

Ability to Be a Great Team Player:

You need to work well in teams and act professionally with customers and colleagues. A poor attitude is not going to work for us. If you are a jerk and don't know how to work well with people, then don't bother applying

Excellent Modern Writing Skills:

Perhaps this goes without saying, but all of our writers at Content Pros need to be next level in the ways that they think about writing.

Great at Following Directions:

We have a very specific process that we need you to follow regarding how to create blog content for our customers. At times, our customers will have very detailed instructions as to what they want their blog content to look like. Other times, our customers are less expressive. If you're not sufficient at interpreting and following instructions on all assignments, then you're not a good fit.

Not a Generalist:

What are you truly an EXPERT at writing? We need niche-specific expertise for the content that we create and not someone who says, I can write about everything.
How to Apply:

(see below)
If you think you'd be a great fit for this job, then make your response to this ad quick and tell us why we should move you into a round for further consideration.Pro Tip: We give STRONG preference to candidates with previous experience creating high-quality long-form blog content. Thanks and looking forward to reviewing your application![Signature]
---
Feel free to use this template as a basis for your blog post.
Pro Tip:

Based on an internal survey and our professional experience working with freelance writers over the past four years, here's an idea of how much you should pay your writers based on their expert level: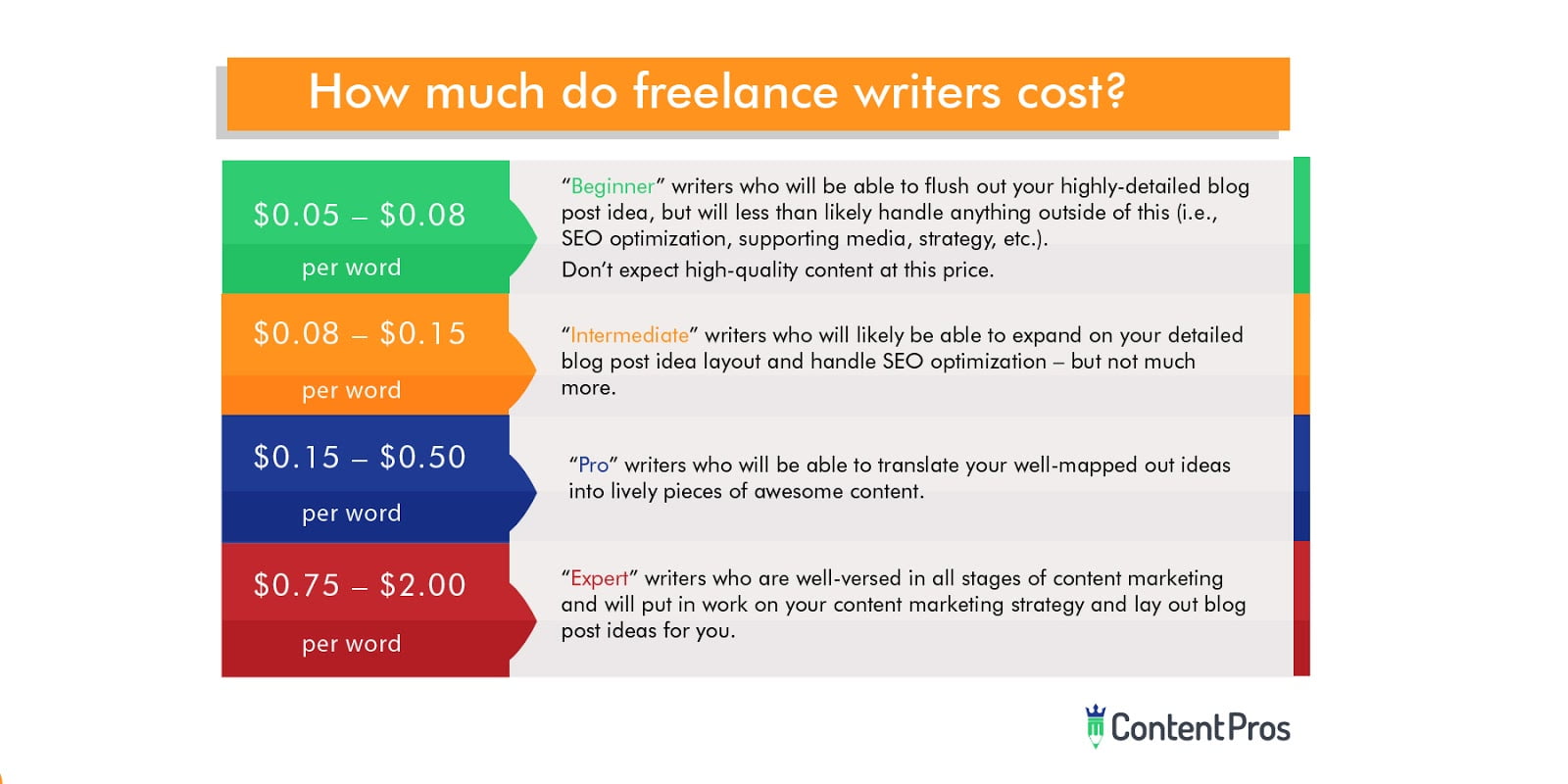 Once you feel your job post is perfect, it's time to go live!
Pro Tip:

Create a reminder on your calendar for one or two weeks after your job post goes live so that you can follow up with a re-post. Remember, posting weekly or bi-monthly will increase your chances of finding writers. Use tools like

Boomerang

to help organize your reminders.
4.) Application
What questions do I ask the writers to find out if they're a perfect fit?
Once the writer decides that they are interested in applying, we direct them to our application page. On this page, the applicant answers questions that are designed to help us determine whether or not they're a good fit for the job.
Pro Tip:

Think about creating a video that explains the vibe of your company. We include one on your application page; you can check it out

here.
(Source)
Pro Tip:

Click

here

for a list of interview questions from Upwork for some more inspiration on what to ask your writers. You can use Google Forms and Survey Monkey to create a similar application. Simply set up your survey with the previously mentioned questions.
We like to have our applicants provide the following information:
---
Email Address

Name

Where did you find our job posting?


Pro Tip: This is useful to determine which platforms are generating the best results.

Phone number or Skype ID


Pro Tip: This is useful for the on-boarding up call that will come later

Are you a native English speaker?

At Content Pros, we are ALL about EPIC blog content. What is your philosophy as to what a good blog post should include?

To us, EPIC blog content is:

Well-researched

Informed and Informative

Includes relevant images

Valuable

Likable, shareable, and linkable

Link to a couple of niche-specific samples of your favorite pieces of work.


Pro Tip: Include the length of content that you'd like to receive (i.e., at least 1,000 words).

Include other preferences as well (i.e., are you looking for visually appealing work?)

Here are a few examples of niche-specific sample blog posts we have received from our writers in the past:

Are you a team player?

How good are you at accepting responsibility for your work? In other words, are you good at accepting constructive criticism?

What is your philosophy on the importance of hitting deadlines?

Are you willing to provide us with a trial article for free?
Pro Tip: This is a MAJOR part of the application process. We will explain it in step 5.

Please take this

personality test

and share your results with us.
Pro Tip: This step will help you uncover the applicant's attitude. Even taking the test reveals their ability to go one step further.
Record a quick video of yourself and tell us your number one reason that we should make you apart of our team.
Pro Tip: Again, this part is useful for determining if the writer is willing to go the extra mile to be a part of your team.
---
5.) Filter
How do I filter through my results to find the best writers?
Once the writer has filled out your application, the next step is to determine whether or not they're a good fit for your team. This can be done by creating a list of traits that you believe make an epic writer. We use a few tell-tale signs from the application (like whether or not they filled out all the questions) and some other criteria for determining if a candidate is a good fit:
---
Overview:

Do a quick sweep of the application from top to bottom. Did the applicant complete all the questions in full? If no, please delete.

Are they a native English speaker or do they have Native English speaking abilities?

If no, delete (Unless the rest of their application looks incredibly stellar).

Make sure their philosophy for a good blog post has a crossover with this:

Well-researched

Informed and Informative

Includes relevant images

Has value

Is likable, shareable, and linkable

Does the article they link to hit on what we outline as a great blog post?

You don't necessarily have to delete the writer if the answer to any of these questions is 'no.' You can teach the writer your preferred format:

Is the blog post long-form?

Does the blog post contain a minimum of 1,000 words?

At a glance, does it seem like a high-quality post?

Did they do the 16 Personalities test?

If no, don't have to delete. This just shows the writer's willingness to go the extra mile.

Did they properly record a video and link to it via Dropbox like instructed? If not, please delete.

We like to include hurdles like this one so that we see that the applicant is easy to work with and chill.
---
It is your job to evaluate a candidate based on their trial blog posts as well as any samples they provided in their application. Be as strict as possible only hire the best of the best!
6.) Sample
What can I do to ensure a writer is the perfect fit?
We don't just want writers who are the best fit we want them to be the perfect fit! How can you ensure that you hire the best of the best? Once you've eliminated unfit applicants, dig a little deeper to find the writers that truly shine. That's why we like to ask applicants to send us a sample post to:
Show their commitment to getting the job,

And give them a chance to 'wow' us with their writing.
Disclaimer:
Upwork requires that all writers are paid for their work and you may be flagged and removed from their website for requesting a free sample post. Be careful out there 🙂
We ask for a sample post using the following process:
Compose a new email to the content writer in a new window

Subject: [Insert CW Name] You Have Made It to the Next Step with [NAME OF COMPANY}!

Create a

Google Doc

with the applicant's name and the date. Include the link in the email copy.

Create copy for your email
Here is a template that we use to inform out writers about the next step of the application process. You can tweak the description to match your needs.
---
Hi [NAME], Thanks so much for your application! It was awesome reading your answers and watching your video!Our team here at [BUSINESS NAME] has reviewed your application in depth, and I'm thrilled to say you have been hand selected for the next step in our process.We are very particular about whom we hire we pride ourselves on only working with the top content writing talent as we build our preferred database of epic [BUSINESS NAME] writers.Here is what to do next:Step 1: Plain and simple, we need to see what you've got specific to what we need. Please take a look at the links below as to what qualifies a blog post as epic:
Pro Tip: LINK to content that you qualify as epic. We use the following examples.
For us to evaluate your skills in the [INDUSTRY] space, we ask that you write a sample blog post for us so we can truly see your talents shine. Feel free to write it about a topic of your choice in the [INDUSTRY] niche.Keep in mind that this is an unpaid trial post, so if you feel uncomfortable writing one for free, you can use one you've already written although we do prefer ones written specifically for our recruitment process.Work out of this document [INSERT GOOGLE DOC LINK HERE] when you're ready to go!Here are a few articles [industry] niche written by our writers and published by our clients. Check them out if you want a better idea of what kind of content we typically produce for our clients:
Please copy and paste all images and cite your sources. The way you format this post within the document should add to its character and make it fun for us to read.Step 2: Once you have a ready sample post for us to look at, email us back and we will walk you through the next steps.We can't wait to read what you come up with and see whether we are a great fit for each other. Looking forward to seeing an awesome piece coming from you.
---
Once you actually receive the sample post, it's time to break down what elements you believe make up high-quality writing. We created this helpful chart below to show you what we believe makes for an epic sample post.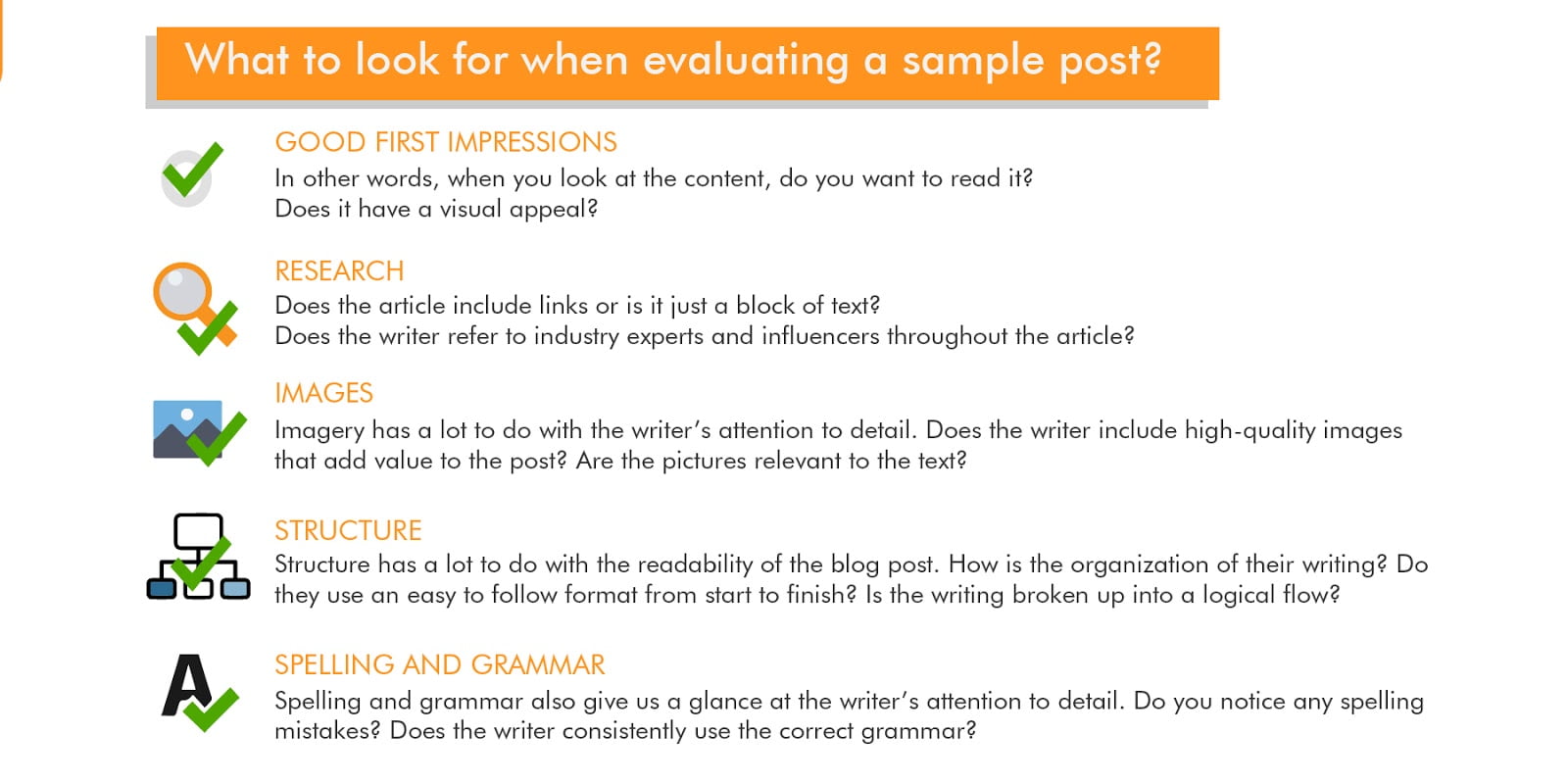 Pro Tip: Also search for signs such as the ability to follow directions and creativity.
7.) Hire
How should I officially hire writers?
The next step is to inform applicants on whether or not they have been hired based on their application. It's important to write out reject emails to applicants who didn't make the cut. You still want to maintain a good reputation with writers as a brand. Take a look at the templates we use to inform applicants of who made the cut:
---
NOT HIRED:
Hi [NAME],Hope you are having a great day. I just wanted to follow up and let you know the status of your process with us.After further review of your sample, our team decided not to move forward with you at this time. We very much appreciate your effort and the time you put into it. It's worth saying that you are the owner of the blog post, and it won't be published anywhere; our unique purpose was to evaluate it.Thanks again for your time and have a wonderful weekend.[SIGNATURE]
---
HIRED:
Hey [NAME!Thanks again for finishing your trial blog post and for your interest in being part of [NAME OF BUSINESS]Our team really liked your job, so I'm super excited to say that we decided to move forward with you and make you part of the team! We need you to fill out the following two forms and send them back our way to get you started:
LINK to relevant forms that you need writers to submit in order to become an employee. For example, we require the following forms:
You don't have editing access to those files in order to protect them. Please make a personal copy of them so you can edit and send them back. If you don't have a PDF editor, you can use a free online tool like this one.Once we have that information, then you can start receiving writing opportunities from our team. Thank you so much for your time during this whole process. We're happy that you made it through.Thanks and have a great day. Looking forward to hearing back![SIGNATURE]
---
Pro Tip: Click here to learn the best ways for coming up with epic blog post ideas with your newly hired writers!
8.) On-Board
How do I clarify on-boarding details with writers?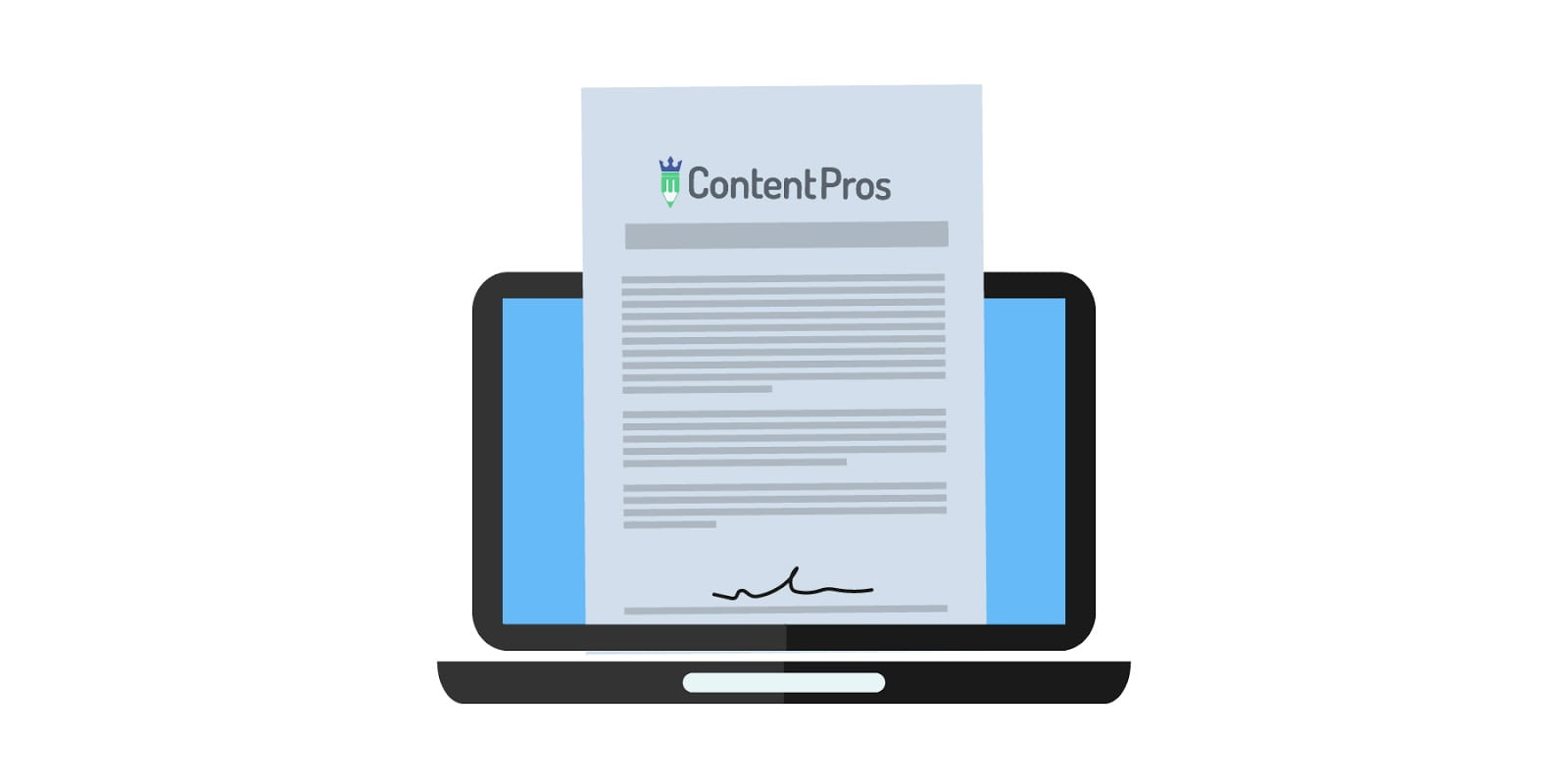 Once an applicant has been selected and you have decided that you like their sample post, it's time to take them through the hiring process. We like to arrange a call to familiarize the writer with the ways things are done at Content Pros and to answer any questions that they have on their end about getting started. Make sure they are 100% clear on how you do things, what you are expecting, what you pay, and how you communicate. Pro Tip: Uberconference is a great tool for online calls.
Conclusion
Congratulations! You've made it through the fog and have finally emerged with a newly hired epic team of writers! Feel free to refer back to our blog post any time you need to hire a new writer. As of the writing of this post, the links we've included are some of the best resources and platforms for finding an epic writer. Moving into the future, this might change, but the templates and processes used throughout the post will remain useful as long as brands need to hire freelancers. Here's a recap of the eight steps that we use to find the best writers possible:
Main Goal:

What is the main goal I wish to achieve by hiring writers?

Research:

Where is the best place for me to look for freelance writers?

Post:

How can I write an enticing job post?

Application:

What questions do I ask the writers to find out if they're perfect?

Filter:

How do I filter through my results to find the best writers?

Sample:

What can I do to ensure a writer is the perfect fit?

Hire:

How should I officially hire writers?

On-board:

How do I clarify on-boarding details with writers?
Happy hiring!